Membership
ELI is an independent, democratic, membership-based organisation with a broad network of around 1,600 individual Members (ie Individual Fellows and Individual Observers) and over 110 institutional Members (ie Institutional Fellows and Institutional Observers). Its Members are legal professionals, government officials, policy and decision makers and academics. Together, they form a unique European legal community. Members currently come from over 60 different countries in Europe and beyond.
An extensive network of Members, from different legal traditions and vocations stands ELI apart and enriches the discourse on the betterment of European laws.
How to Apply
To apply, please complete the form under 'Important Links' on the right electronically.

Do take the time to read the ELI Statute before doing so. Should you have difficulties applying or questions, please do not hesitate to contact the ELI Secretariat. Note that the membership application must be supported by two current ELI Fellows. Both referees should be added to the Membership application form and will be contacted by the ELI Secretariat in the course of reviewing the application. Alternatively, the referees can express their support for a candidate's application by sending the ELI Secretariat an email at any time.
Be a Stakeholder
Contribute to the debate over topical legal issues that Europe and the world face today. Members are free to choose the extent to which they actively engage in the work of the ELI. They are particularly welcome to contribute by participating in Advisory Committees, Members Consultative Committees (MCCs), or even within Project Teams. National ELI Hubs, which unite local ELI Members at ELI events, and Special Interest Groups (SIGs), which focus on particular areas of the law, ranging from private to public law, constitute other fora for collaborative input, affording them a genuine opportunity to have a stake in Europe's future legal direction.

Beyond improving the mutual understanding of legal frameworks in place in Europe and their interplay on a national and European level, the ELI facilitates collaborative working amongst Members of the European legal profession.

Benefits to Membership At a Glance
Influence policy and impact current best practice through ELI forums

eg through MCCs, Hubs and SIGs that focus on aspects of law that matter to you



Be kept informed of progress of our current projects and events and of upcoming ones
Network and exchange ideas
Free entry to the ELI Annual Conference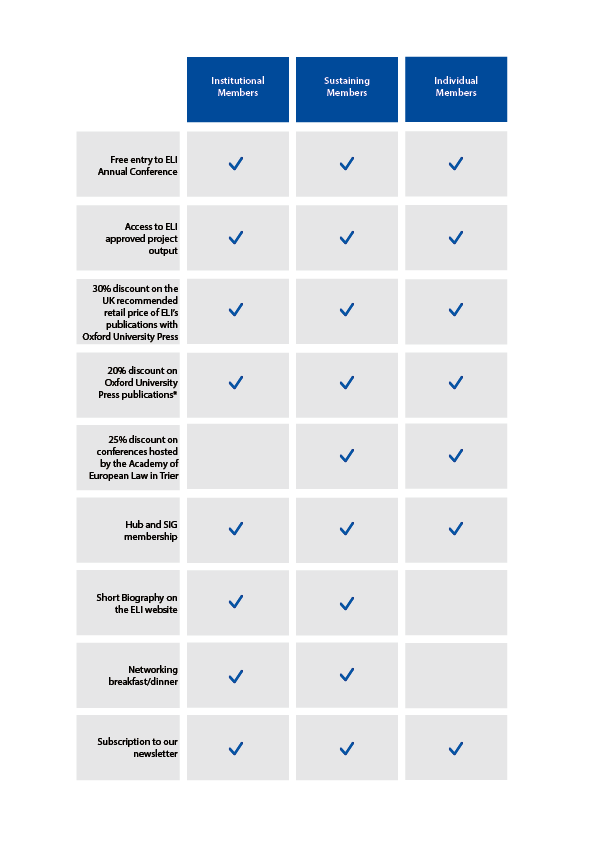 Membership Fee Exemption — Institutional Members
Membership is subject to approval by the ELI Council and can be based on individual applications, supported by two ELI Fellows acting as referees or, exceptionally, on the invitation of the ELI Council.
In accordance with Article 8(5) of the ELI Statute, and adding to Council Decision 2018/5, the Council determined that the following institutions shall be exempt from paying an annual membership fee:

Membership Fee Reduction — Individual Members
Following the Council Decision 11/2021, which aims to make the membership fees more equitable and fair for Members residing in countries with different economic situations, the new Membership Fee Scheme offers Individual Members from lower income countries a possibility to apply for a fee reduction. Two different reduced fees are available to Individual Members, in line with the ELI's categorisation of countries based on the GDP per capita, as indicated in table on the right, which will be based on the data published by the World Bank. The list of countries divided in two categories is available here (subject to annual revision by ELI). To apply for a reduced membership fee, please submit the signed 'Application for a Reduced Membership Fee' to the ELI Secretariat. Where an ELI Members can point to a GDP per capita source other than the World Bank, that qualifies their country of residence for a reduction, they should contact the ELI Secretariat before applying.

Fee Exemption
The European Union and its institutions, bodies, offices and agencies
Sovereign states and their constitutional bodies
Intergovernmental organisations
The United Nations and its bodies, offices and agencies
Student associations
| Category of countries | GDP US$ per capita | Reduced Membership Fee |
| --- | --- | --- |
| 1 | 19,000 - 10,000 | € 48 |
| 2 | 9,999 and less | € 30 |